Welcome to Antanetiambo Nature Reserve, a small locally managed forest set in the lush ricefields of the Andapa basin. Mandrosoa!
This 35 acre rainforest reserve, created by the famous ecotourist guide and highly respected naturalist Mr. Désiré Rabary, offers visitors an opportunity to learn about the cultural values and practices of the Tsimihety people while observing endemic wildlife. This is the only reserve in northern Madagascar that has been entirely created from start to finish by a single local resident. The site has developed into a mini-conservation hub where collaborators, such as Lemur Conservation Foundation, have worked with him to develop ecotourism, foster conservation of the bamboo lemurs, build a model fish farming pond, reforestation tree nurseries, and a community library. This short film overviews the reserve and the accomplishments of Désiré Rabary:
http://www.youtube.com/watch?v=gu33LgqWIA8
Tours may be conducted in English, French, or Malagasy. Antanetiambo is family managed and visitors are encouraged to stay and share a traditional meal prepared by Mrs. Valerie Doko at the family's home in Matsobe. Organic, high quality, locally grown vanilla is also available for purchase.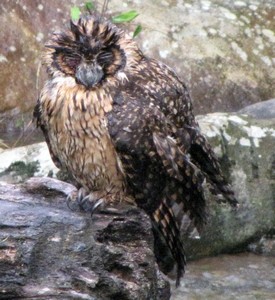 Madagascar Owl (Asio madagascariensis)
in Antanetiambo Nature Reserve
The Antanetiambo staff is happy to accommodate visitors' specific interests by designing a personalized visit. A range of possible activities includes: searching for bamboo lemurs, birds, and reptiles in the reserve; visiting the large Paratilapia fish farm, learning traditional rice and other farming practices, bicycling through picturesque countryside, or spending time in the community library where foreigners can always be of assistance and interest to local students. Many people simply enjoy discussing the challenges of establishing a new protected area with reserve founder Désiré Rabary. Please contact us in advance if you would like to engage in these or other activities: Contacts
Antanetiambo has become a conservation hub in recent years as Lemur Conservation Foundation have teamed up with reserve founder Désiré Rabary. Through these collaborations, Désiré has in recent years expanded the size of the reserve by about 40% by purchasing adjacent parcels.
However, he needs funds to continue expanding his reserve. A variety of conservation projects are being pursued, and visitors are encouraged to visit our projects, such as: 1) Long-term monitoring of Northern bamboo lemurs, 2) Paratilapia fish farming, 3) Duck rearing and breeding, 4) Community library, 5) Reforestation, and 6) Bok choy farming ("petsay").
Antanetiambo's Main Staff Members are pictured below. On the left is Désiré Rabary with Nadege the librarian; in the middle is William who is the fish pond guardian and caretaker, and on the right is Ramichael, the park ranger for Antanetiambo Reserve.


TOP OF THE PAGE
---