Set amidst a vast green expanse of marshlands and rice fields, Antanetiambo is a densely wooded hill, rich with wildlife. This unique and beautiful spot is the result of one man's extraordinary efforts to preserve a bit of the natural and cultural history of the Andapa Basin in northeastern Madagascar. Working together with the local community of Belaoka-Marovato, local environmentalist and guide Mr. Rabary Desiré has created a sanctuary for the remarkable variety of plants and animals native to the area, as well as a natural laboratory for their study and enjoyment.
Antanetiambo has a long history. Once virgin tropical rainforest harboring some of the richest biodiversity in Madagascar, much of the land was cleared many decades ago by colonists who farmed coffee; later, portions of it were burned yearly to grow a variety of crops. Under its current protection as a nature reserve, however, and with the help of an intensive reforestation project, the land is gradually reverting to its former natural state. Stands of giant bamboo and wild ginger are well established and support healthy populations of bamboo and mouse lemurs, and a growing population of native palissandre, rosewood and ebony trees. Many species of birds, including herons, sunbirds, kingfishers and owls make their home here, as well as a great variety of reptiles and amphibians.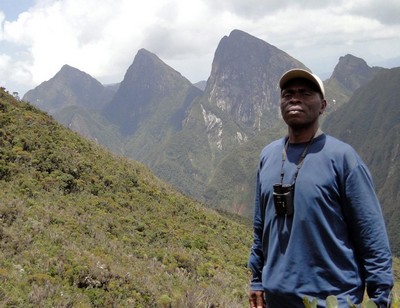 Désiré Rabary leads trip to the summit of the Marojejy Massif
In much of the flatlands that surround Antanetiambo, rice is farmed in irrigated fields using age-old, non-mechanized methods. It is a pastoral and tranquil landscape, with the timeless, gentle feel of the Malagasy culture. Some small portions of these flatlands around Antanetiambo, such as Anjojorobe, are now also managed by Mr. Rabary as natural areas, and they once again support native wetland flora and fauna as they did hundreds of years ago.
This is the charm and the fascination of Antanetiambo: a visit to Antanetiambo is a journey into the past, a journey that allows one to witness the natural regeneration of a tropical rainforest with all its remarkable biodiversity, and to see the rich, centuries-old traditions of a people living simply on the land. Antanetiambo has many beautiful stories to tell.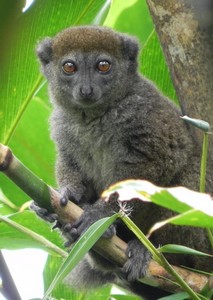 Northern Bamboo Lemur (Hapalemur occidentalis)
in Antanetiambo Nature Reserve


Located only six km from the town of Andapa in northeastern Madagascar, Antanetiambo makes a perfect day or overnight excursion. A short bicycle or taxi ride through the rice fields of the Andapa Basin leads to the tiny village of Matsobe at the confluence of the Andramonta and Ankaibe rivers. A small "hotely" in Matsobe provides refreshment and information on the reserve. From here, a guide (often Mr. Rabary himself, speaking excellent English and French) will be delighted to show you the reserve and the local area. Many activities can be arranged, from lemur viewing in the forests of Antanetiambo, birding in the wetlands of Anjojorobe, pirogue rides on the Andramonta River, and bicycle rides through the surrounding countryside. You are welcome to camp out at the reserve, if you like; tents may be available for rent, please inquire. Bungalows and other overnight facilities are planned for construction.
Access and Bookings
Antanetiambo Nature Reserve may be accessed by traveling by taxi brousse or private vehicle from Sambava (airport) to Andapa. From Andapa, hire a private taxi or bicycle/walk 5 km north to Matsobe-Sud/Commune Rurale Belaoka-Marovato.
---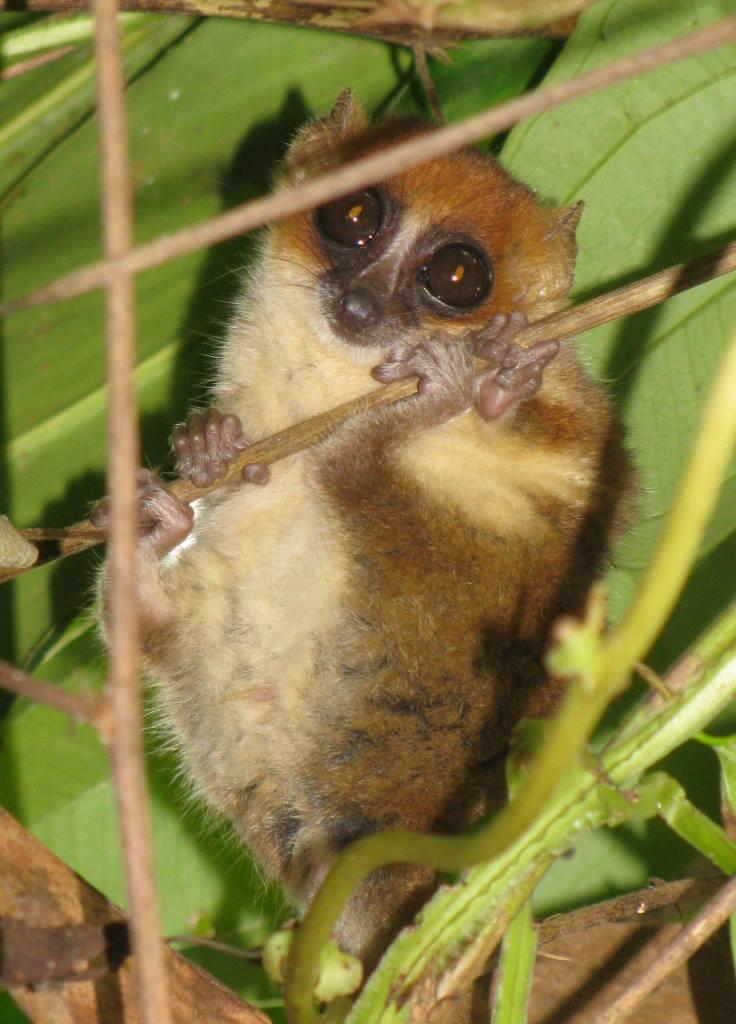 Mouse Lemur (Microcebus sp.)
in Antanetiambo Nature Reserve
2019 Tariffs
Entrance fees:
30 000Ar.
Guide fees:
40 000Ar.
Lunch:
Fixed price - 20 000 Ar.
Bicycle:
One way - 5 000 Ar.
Vehicle:
One way - 15 000 Ar. (4 seats available)
---
Please arrange visits in advance by calling Désiré Rabary (0349822942) or Nadege (0344837252) or Joxe (0324213870) or Éric Mathieu (0324011881).

You can also email Dr. Erik Patel (Lemur Conservation Foundation) at patel.erik@gmail.com or Éric Mathieu

Location map: Antanetiambo Nature Reserve

3 Parcels of Antanetiambo with numbered boundary plaques



TOP OF THE PAGE
---